Stunning Wedding Special Sarees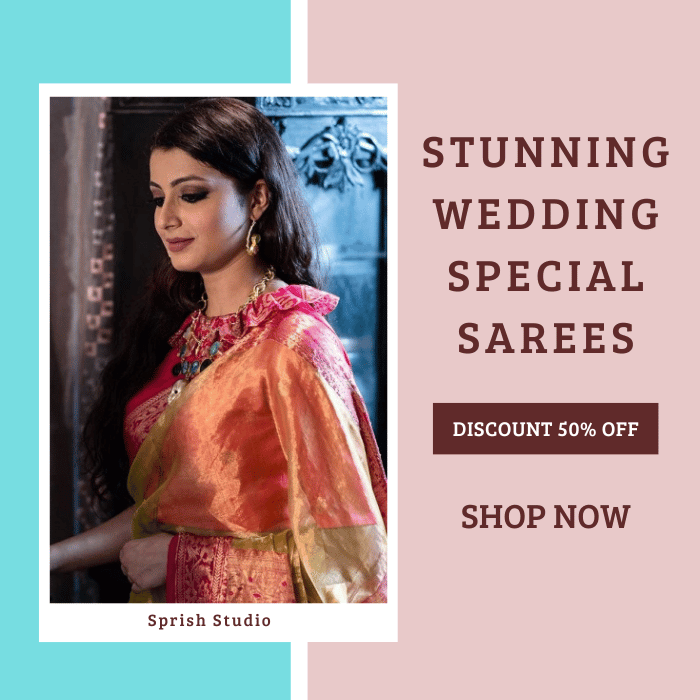 A wedding is a celebration of love and commitment, and every bride wants to look her best on this special day. One of the most important elements of a bridal ensemble is the saree. It's not just clothing; it's a symbol of tradition, elegance, and grace.
In this blog post, we'll explore the best wedding sarees of the year and the stunning collections that are available online.
Best Sarees for Wedding
When it comes to selecting the perfect saree for your wedding, there are numerous options to consider. The choice depends on your personal style, the wedding theme, and your cultural preferences. Let's take a look at some of the most exquisite saree collections that have caught the attention of brides-to-be this year.
1. The Classic Silk Sarees: Silk sarees have always been a favourite choice for brides. Whether it's the timeless Banarasi silk, the rich Kanchipuram silk, or the elegant Mysore silk, these sarees exude opulence and tradition. The intricate zari work and vibrant colours make them a top pick for weddings. Not only do silk sarees offer a touch of luxury, but they also hold great cultural significance. The draping style and motifs on the saree can be customised to reflect your personal style and cultural preferences, making it a truly unique choice for your wedding ensemble.
2. Designer Lehenga Sarees: For brides who want a fusion of styles, designer lehenga sarees are a fantastic option. They combine the grace of a saree with the flair of a lehenga, creating a contemporary yet traditional look. These designer lehenga sarees often feature intricate embroidery, luxurious fabrics, and stunning embellishments that add a touch of glamour to your wedding attire. The combination of the lehenga and saree elements allows for a versatile and comfortable outfit that is perfect for both the wedding ceremony and reception.
3. Handloom Sarees: If you're looking for something unique and handcrafted, consider handloom sarees. From the exquisite Kantha work of West Bengal to the artistic Patola sarees of Gujarat, these sarees are a testament to India's rich textile heritage. Handloom sarees are not only beautiful but also support local artisans and promote sustainable fashion. The intricate weaving techniques and vibrant colours make each handloom saree a work of art that tells a story of tradition and craftsmanship.
4. Embroidered Masterpieces: Embroidered sarees are another hot favourite this year. Whether it's delicate threadwork, intricate mirror work, or dazzling sequins, these sarees add a touch of glamour to any wedding. They are perfect for wedding parties and receptions. Not only do embroidered sarees add a touch of glamour to any wedding, but they also showcase the incredible craftsmanship and attention to detail of local artisans. Each threadwork, mirror work, or sequin is meticulously handcrafted, creating a masterpiece that truly stands out. These sarees not only make the wearer feel beautiful but also support the continuation of traditional embroidery techniques and sustainable fashion practices.
5. Pastel Perfection: While bold and vibrant colours have their charm, pastel shades have been gaining popularity for weddings. Pastel sarees in soft pinks, peaches, and mint greens are a refreshing choice for brides who want a subtle yet elegant look. These delicate hues add a touch of femininity and grace to the overall bridal ensemble. The pastel sarees can be adorned with intricate embroidery or embellishments to enhance their beauty and create a stunning visual impact.
Sarees for Wedding Party
Weddings are not just about the bride; they are a celebration for everyone involved. Wedding parties also need to look their best, and sarees are a great choice for bridesmaids and family members. Here are some saree options that will make the wedding party shine:
1. Georgette Sarees: Georgette sarees are light and easy to drape, making them an excellent choice for bridesmaids who have to be on their feet throughout the ceremony. These sarees are available in a variety of colours and prints, making it easy to coordinate with the wedding theme.
2. Chiffon Sarees: Chiffon sarees are known for their elegance and sheen. They are perfect for mothers and aunts of the bride or groom. The delicate embroidery and beadwork on chiffon sarees add a touch of sophistication to any wedding ensemble. Chiffon sarees are also a great option for guests attending the wedding, as they offer a comfortable and stylish choice.
2. Half and Half Sarees: Half and half sarees are a trendy choice for young bridesmaids. These sarees feature contrasting colours and patterns in the upper and lower halves, creating a unique and eye-catching look.
Conclusion
Finding the perfect wedding saree is a crucial part of wedding preparations. The best wedding sarees of the year come in various styles, fabrics, and price ranges, catering to every bride's unique taste. With the convenience of online shopping, brides can explore these exquisite collections and choose a saree that will make them feel great on their special day.