Sprish through the eyes of the founder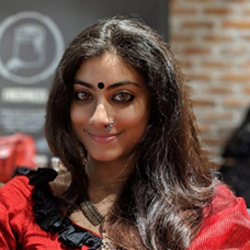 As the name implies, Sprish signifies being cared and loved for. Mrs. Sulagna Ray (Bhattacharjee), a well-known Odissi performer, has created a physical manifestation of her childhood ideas, feelings, and colourful artistic expressions through Sprish.
Sprish is the modern-day face of handloom art that shatters the monotony of your day-to-day existence with the excitement of handmade, quality-woven designer wear products and décor accessories.
It is an initiative to uplift our traditional handloom weavers who are fighting for survival in the age of monstrous power looms and assembly lines. Sprish provides much-needed sustainability in the ever-changing world of fashion, thanks to an age-old lineage of weaving techniques that yield consistent quality-centric produce.
In today's world, it is critical to choose a fashion that is sustainable, environmentally friendly and anchored in order to prevent the extinction of traditional resources and to coexist with the old while laying a solid foundation for the future.
Sprish Studio, a slow fashion brand, has also strongly supported gender equality. At Sprish, the gender boundaries have been simplified as we strongly believe in gender fluidity. For us, fashion is for all, and it can't be labelled for a particular gender.
Help us create a world where tradition meets modernity, and the old coexists with a passion for the new. Team Sprish needs your help to achieve a dream that is one for all and all for one.