Launch of our store by Rituparna Sengupta, Reshmi Mitra and Avirup Sengupta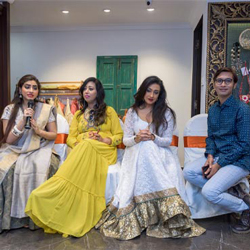 The Lime N Light adda was hosted at our store, Sprish Studio, and included the cast and crew of the Bengali film Limelight, including director Reshmi Mitra, actor Rituparna Sengupta, well-known dancer Avirup Sengupta, and others.
Sulagna Ray Bhattacharjee, a well-known Odissi dancer, is the founder of Sprish Studio, a slow fashion brand.
Talking about the newly announced collection and skin-friendly slow fashion, our founder, Sulagna, said, "The use of power looms to produce a large number of garments in a short period of time is becoming increasingly popular. However, this is neither good for the weavers nor the environment. For the clients, I have engaged weavers to manufacture environmentally-friendly handloom garments and sarees."
She also mentioned that the store provides items to suit a variety of budgets. The boutique's jewellery is crafted out of 70% silver and includes semi-precious stones and other embellishments.
Rituparna Sengupta, who inaugurated the studio, praised Sulagna for her efforts. She also stated that establishing something is very simple, but maintaining it over time is the most difficult thing to achieve.
The Limelight team celebrated the inauguration by cutting a cake at the home of Sprish, which is at P 79, Lake Road, Lake Terrace,  Kolkata-29.
Visit our store to see what's new.