10 Ways to Reuse Your Bridal Outfits for Your First Diwali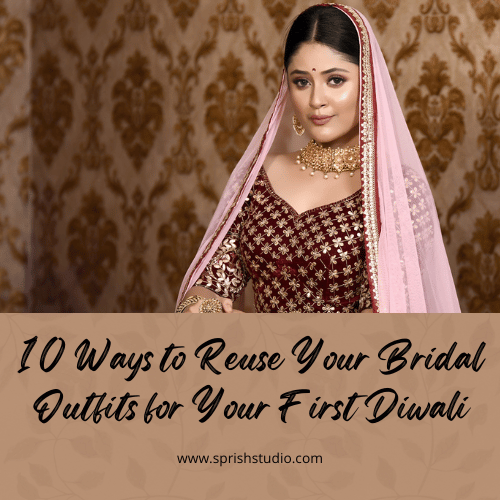 Your bridal outfits are more than just garments; they are a testament to your special day and hold immense sentimental value. That beautiful bridal lehenga or saree you wore on your wedding day doesn't need to be tucked away in the back of your closet. With Diwali just around the corner, it's the perfect time to bring out your bridal finery and give it a fresh lease on life.
In this blog, we will explore 10 creative ways to reuse your perfect bridal lehenga and other bridal outfits for your first Diwali celebration as a married woman.
Drape your lehenga as a dupatta
If you have a gorgeous bridal lehenga, consider draping it as a dupatta over a plain or contrasting outfit. This will instantly elevate your Diwali look and add a touch of regal charm. Pair it with a simple anarkali suit or even a classic saree to create a unique ensemble that exudes elegance. Another option is to repurpose your bridal lehenga by transforming it into a stunning floor-length gown. By removing the blouse and adding some embellishments or a belt, you can create a glamorous and modern look that is perfect for Diwali festivities. This way, you can showcase the intricate embroidery and craftsmanship of your bridal outfit in a whole new way.
Convert your lehenga skirt into a Skirt
One way to repurpose your bridal lehenga is by converting the lehenga skirt into a stylish skirt. By pairing it with a simple blouse or a trendy crop top, you can create a chic and contemporary look that is suitable for various occasions. Take your bridal lehenga's skirt and transform it into a standalone skirt by pairing it with a stylish blouse or crop top. You can add some contemporary jewellery and accessories to create a trendy fusion look that's perfect for Diwali parties. Another option is to style your lehenga skirt with a fitted turtleneck or a button-down shirt for a more modern and sophisticated look. Complete the outfit with statement earrings and heels to make a fashion-forward statement at any Diwali celebration.
Reinvent your blouse
Your bridal lehenga's blouse is often intricately designed and can be a work of art in itself. Pair it with a different sari or skirt to create a fresh outfit. You can also get creative by adding sleeves, altering the neckline, or even turning it into a stylish crop top. These modifications will give your blouse a new lease on life and allow you to wear it for other occasions beyond your wedding. Additionally, consider experimenting with different accessories, such as a statement belt or a contrasting dupatta, to further elevate your outfit.
Customise It
If your bridal lehenga doesn't quite match your vision for a Diwali outfit, consider customising it. You can dye it a different colour or embellish it with additional embroidery, mirror work, or sequins to give it a modern twist while retaining its essence. Another option is to alter the silhouette of your lehenga to make it more suitable for a festive occasion like Diwali. You can shorten the length or add layers to create a more voluminous look. This way, you can transform your bridal lehenga into a unique and personalised outfit for any celebration.
Saree Transformation
If you wore a bridal saree, don't let it languish in your closet. Repurpose it by draping it differently, opting for a unique pleating style, or adding a contrasting blouse. Sarees are incredibly versatile, and a little creativity can go a long way toward reinventing them. Consider adding embellishments such as sequins or embroidery to give your saree a fresh and modern twist. You can also experiment with different draping styles, like the Gujarati or Bengali drape, to completely transform the look of your bridal saree.
Mix and Match
Don't hesitate to mix and match different elements of your bridal outfit with other contemporary pieces. For instance, pair your bridal lehenga's choli with a trendy pair of palazzo pants or style the dupatta with a modern kurti for a fusion look that's both traditional and fashionable. You can also try incorporating contrasting colours or patterns into your bridal saree ensemble to add a unique and eye-catching touch. Additionally, accessorising with statement jewellery or a stylish belt can further enhance the modern twist of your overall look.
DIY Accessories
Take any leftover fabric or embellishments from your bridal outfit and create unique accessories like clutch purses, potli bags, or even custom-made jewellery. These personalised accessories can add a touch of bridal charm to any Diwali ensemble.
Conclusion
Your bridal outfits for your first Diwali don't have to be relegated to the back of your closet after your wedding day. With a bit of creativity and imagination, you can breathe new life into your bridal lehenga, saree, or other bridal attire, making it a star attraction at your first Diwali celebration as a married woman. Whether you choose to repurpose, customise, mix and match, or gift your bridal outfit, remember that it's all about celebrating your love and heritage in style. Happy Diwali!