Trending Diwali Outfit Ideas For Styling This Diwali Festival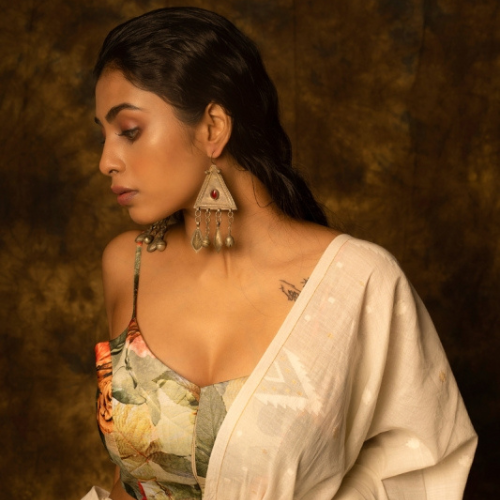 Introduction
Diwali, the festival of lights, is a time of celebration, joy, and vibrant traditions. As we gear up to celebrate this auspicious occasion, one of the most exciting aspects is choosing the perfect outfit. This year, the fashion scene is abuzz with trending Diwali outfit ideas that beautifully blend traditional elegance with contemporary flair.
From the trendiest Diwali outfit ideas to ethnic wear inspirations, this blog brings you a curated collection of outfits that will ensure you shine as bright as the Diwali diyas.
1. The Classic Anarkali Dress For Diwali
The Anarkali dress is unrivalled when it comes to classic elegance. Choose a traditional Anarkali dress for Diwali that radiates majesty and grace. In rich jewel tones like royal blue, emerald green, or maroon, choose brocade, silk, or velvet textiles. Your outfit might benefit from embellishments like elaborate embroidery, zari work, and sequins that exude opulence.
To finish the ensemble, add statement jhumkas, a maang tikka, and embellished heels. For individuals who wish to uphold tradition while also making a statement, this attire is ideal. The Anarkali dress is a classic style that suits all body types and can be worn on a variety of occasions. Its floor-length, flowing shape gives your whole appearance a touch of elegance. Additionally, a classic updo for your hair and a bright red lip colour might help you achieve a more regal appearance.
2. Embrace Ethnic Chic with Kurti and Palazzo Dress
The kurti and palazzo outfit is a terrific option for those who value comfort and sophistication together. Choose a festive kurti with stunning embellishments in saffron, deep scarlet, or mustard. It looks great with contrasting palazzo pants with elaborate designs or decorations. You can walk around with ease while still seeming effortlessly elegant in this attire.
Traditional juttis, eye-catching bracelets, and a handbag to hold your things will finish the appearance. This ensemble is a fantastic option for those who want to channel a modern ethnic vibe. The kurti and palazzo combination is not only stylish but also comfortable, making it perfect for festive occasions. The flowing silhouette of the palazzo pants adds a touch of grace to the overall look. Additionally, you can enhance the outfit by accessorising with a statement necklace or earrings to add a touch of glamour.
3. Saree Splendor with a Contemporary Twist
The saree is a fundamental representation of Indian tradition, and this Diwali it receives a contemporary makeover. Pick a saree with modern features like pre-stitched pleats or a distinctive drape design. Sarees made of chiffon, silk, or georgette with fine detailing are excellent options. To add a dash of modern flair, play around with uncommon blouse styles including off-the-shoulder, halter neck, and bell-sleeved tops. Choose a pair of embellished heels to finish the ensemble. This outfit skillfully mixes history and contemporary, making it appropriate for a range of events, including weddings and festive celebrations.
4. Radiate Elegance in Lehenga Choli
A Lehenga Choli outfit will give you the regal and beautiful appearance you want. Choose a choli that contrasts with your elaborately embroidered lehenga skirt. Deep crimson, navy blue, and emerald green are jewel tones that look stunning with this ensemble. Choose a choli with a backless pattern or unique sleeve designs to be current with fashion. A potli bag, showy rings, and elaborate matha patti should all be worn as jewellery.
For individuals who wish to arrive in style and create a good impression, this outfit is ideal. In addition to being physically attractive, the choli ensemble also allows for some personalisation. Think about incorporating various textures or ornaments into the choli pattern to give it your own special touch.
5. Sharara Suit: A Fusion Delight
For a unique and trendy twist on traditional attire, the sharara suit is a fantastic choice. A sharara suit typically consists of flared pants paired with a short kurta and a flowing dupatta. Choose rich fabrics like silk or velvet and select a sharara with intricate embroidery or embellishments. The sharara suit strikes a beautiful balance between the ethnic and the contemporary, making it an ideal pick for fashion-forward individuals.
Conclusion
This Diwali, let your outfit reflect the spirit of the festival – vibrant, joyous, and full of light. The trending Diwali outfit ideas presented in this blog offer a range of options that cater to different style preferences, from the classic Anarkali dress to the fusion delight of a sharara suit. Whether you choose timeless elegance, ethnic chic, or a modern twist on traditional wear, the key is to embrace your unique style while celebrating the rich cultural heritage of Diwali. So go ahead, dress up in your festive best, and shine as bright as the Diwali lights and shop all your favourite looks from the sprish studio.