10 Raksha Bandhan Dress Ideas for Girls in 2023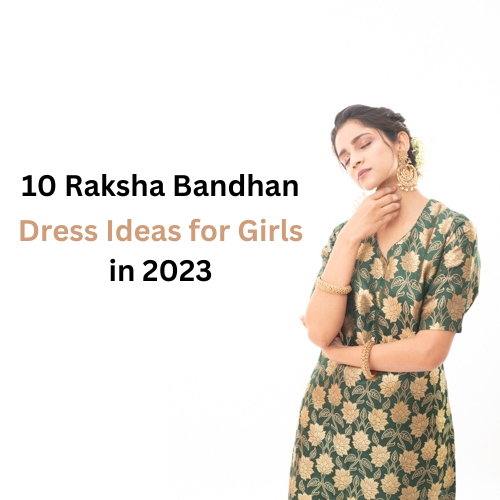 Introduction:
Raksha Bandhan, a festival commemorating the special tie between brothers and sisters, is a time not just for expressing profound sentiments, but also for showcasing your individual flair. As the year 2023 approaches, it's the ideal time to embrace fashion-forward selections and stand out on this auspicious day.
We present you a list of 10 Raksha Bandhan outfit ideas that will help you make a lasting impression, whether you're seeking for traditional elegance or contemporary style.
1. Salwar Suits
Salwar suits have always held a special place in the hearts of women during festive occasions like Raksha Bandhan. Their versatility and comfort make them an ideal choice for this joyous celebration. Whether you opt for a traditional embroidered anarkali suit or a more contemporary straight-cut design, salwar suits effortlessly blend elegance with cultural charm. The intricate detailing, vibrant colours, and varied silhouettes of salwar suits allow you to express your personal style while honouring tradition. With the perfect blend of comfort and grace, salwar suits ensure you can move freely and participate wholeheartedly in the festivities while looking stunningly beautiful.
2. Traditional Elegance
Adorning a silk saree or a resplendent lehenga choli on Raksha Bandhan is like draping oneself in elegance and tradition. The rich, luxurious texture of silk exudes timeless charm, perfectly capturing the spirit of this cherished festival. The intricate craftsmanship, vibrant hues, and intricate embellishments of these ensembles not only pays homage to tradition but also creates a captivating visual statement that honours the festivity's essence.
3. Floral Fineness
A floral-printed anarkali suit or a flowy maxi dress can also be your go-to dress for this Raksha Bandhan. Delicate floral patterns bring out a sense of freshness and joy, perfectly complementing the festive atmosphere. The vibrant hues and graceful silhouette of the Anarkali create a harmonious blend of tradition and contemporary style, allowing you to move with grace and confidence as you celebrate the bond between siblings.
4. Contemporary Fusion
For a modern twist, consider pairing a cropped blouse with a long skirt or dhoti pants. Play with contrasting colours and experiment with offbeat patterns to create a fusion look that's both trendy and traditional. Wearing a fashionable long skirt or pair of dhoti trousers can help you celebrate Raksha Bandhan in a way that combines tradition and contemporary fashion. Enter this wonderful day with poise and flair as your long skirt or dhoti pants become a mark of your individual style and connection to your celebrations. This can surely be one of the best Raksha Bandhan outfit choices that you can opt for.
5. Palazzo Panache
Stay comfortable and chic in palazzo pants teamed with a kurta and statement dupatta. This ensemble offers a relaxed yet stylish vibe, ideal for the day's festivities. Palazzos offer a beautiful and laid-back appearance that is appropriate for the festive celebrations. They are the right fusion of modern style and classic flare. They are a versatile option that enable you to savour the joy of the celebration while appearing effortlessly stylish, whether you're taking part in the rites or indulging in the happy festivities, which makes it one of the best dress options for this Raksha Bandhan
6. Indo-Western Glam
Choose a tailored jumpsuit embellished with traditional motifs or embroidery. This fusion of Western and Indian elements adds a unique touch to your Raksha Bandhan ensemble.
7. Sharara Sophistication
Step into the celebrations with a flair by donning a sharara suit. The wide-legged pants and matching kurta offer a blend of comfort and elegance, perfect for the occasion.
8. Pastel Perfection
Opt for soothing pastel shades like lavender, mint green, or blush pink. These soft hues exude a sense of serenity while still being festive, making them an excellent choice for the occasion. Pastel gowns stand out as a restful and fashionable option while choosing the ideal attire for Raksha Bandhan. On this particular day, pastel outfits not only convey a sense of tranquillity but also give the celebrations a contemporary spin.
9. Patiala Punk
For a relaxed and vibrant appearance, consider a Patiala salwar suit. The comfortable yet stylish Patiala pants paired with a short kurta are ideal for both the rituals and the celebrations that follow.
10. Classic Anarkali
When in doubt, go for a classic! A floor-length Anarkali suit with intricate embroidery and a flowing silhouette is a timeless option that radiates grace and charm.
Conclusion
Raksha Bandhan is not just a festival; it's an opportunity to celebrate the bond of love, care, and style. These 10 dress ideas for girls in 2023 encompass a range of styles that allow you to express your personality and creativity while embracing the spirit of tradition. Whichever outfit you choose, wear it with confidence, and let your unique style shine on this special day. Shop your favourite look from Sprish today.