Designer Sarees Collection for this Diwali Season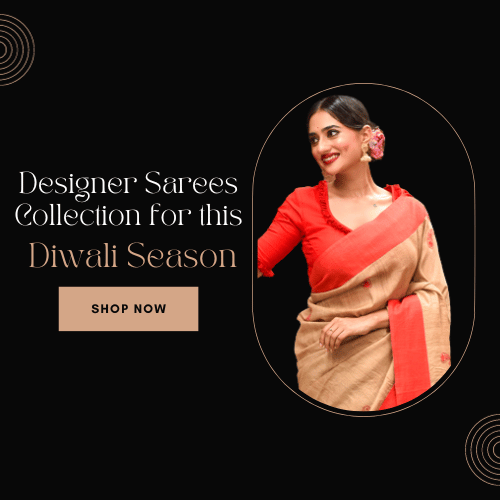 Diwali, the season of lights and extravagant celebrations, is almost near. It's that time of year when homes are decked out with lovely decorations, delicious dishes are shared, and loved ones gather to rejoice. And, of course, this is the time to flaunt out your best traditional outfits. Nothing beats the charm and attractiveness of designer sarees in the realm of ethnic fashion.
In this blog, we'll delve into the world of 'Designer Sarees for This Diwali Season' and learn where you may find the most exquisite ones.
Diwali Magic in Designer Sarees
Designer sarees and Diwali have an unparalleled connection. They exemplify the festival's ethos admirably. Designer sarees' elaborate designs, brilliant colours, and rich textiles represent the festivities and richness of Diwali. An elegant saree might be the ideal outfit for lighting diyas, giving presents, or attending a magnificent Diwali party.
Looking into the Most Current Trends
Diwali sarees are no exception to the fact that fashion never stays static. The latest designer saree trends incorporate a mix of traditional and contemporary styles. While classic reds and golds are ageless, trendy pastels and metallic tones are also appealing. Sarees with distinctive drapes, blouse designs, and artwork are very popular this Diwali season.
Where Can You Buy the Best Diwali Sarees?
Choosing the proper store is critical when it comes to finding the perfect Diwali saree. Sprish Studio is the place to go if you want to buy the latest designer Diwali sarees online. We have a large selection of designer sarees to suit a variety of tastes and preferences. Here at Sprish Studio, you can select the colour, style, and fabric for your ideal Diwali saree.
Some Of The Best Designer Sarees For This Diwali Season:
Chanderi Sarees
Chanderi sarees are known for their soft and translucent fabric. Because of their beautiful zari work and complex motifs that are usually used to decorate these sarees, they are a popular choice for festive occasions such as Diwali. The elegance, comfort, and silky, translucent feel of Chanderi sarees add an enchanting touch to your Diwali attire, making them an excellent choice for the festival.
Georgette Sarees
Georgette sarees are well-known for their exquisite drapes and charming feel. They come in an array of colours and frequently have minimalistic or detailed embroidery. Purchasing a georgette saree for Diwali offers a stylish and pleasant way to celebrate the festival of lights.
Banarasi Silk Sarees
Banarasi silk sarees are a popular choice for Diwali attire and a wardrobe essential. They have a luscious, heavy texture and an intense colour palette obtained by precise weaving with gold, silver, and copper threads. These sarees exude timeless elegance and can be dressed up or down for a variety of occasions.
Paithani Sarees
Paithani sarees, which came from Maharashtra, are known for their bright colours and peacock motifs. These shining silk sarees include intricate designs that not only represent tradition but also provide a touch of opulence to your festive ensemble.
Organza Silk Sarees
A breathable, transparent fabric is used to make organza silk sarees. These sarees are typically embellished with intricate embroidery and motifs. Wearing an organza silk saree during Diwali adds a touch of refinement and modernism to your ethnic attire. They are an excellent choice for the celebration due to their blend of heritage and current flair.
Tussar Silk Sarees
Tussar silk sarees are famous in India for their natural texture and earthy tones. These sarees are frequently distinguished by their effortless style and weaving expertise. Choosing a tussar silk saree for Diwali connects you to traditional Indian artistry. The simplicity and authenticity of Tussar silk are ideal for commemorating the occasion.
Ruffle Sarees
Ruffle sarees are a contemporary take on traditional attire. Ruffled layers or pleats add a playful and appealing touch to these sarees. Wearing a ruffle saree during Diwali may make you stand out due to its unique pattern. It's an excellent option for people who want to make an impact with their festive style.
Suggestions for Diwali Saree Purchases
A variety of factors must be considered when selecting the best Diwali saree. Your body type, colour preferences, and accessory selection all have an impact. It is critical to select a saree that enhances your natural beauty while also making you feel comfortable. Sprish Studio's knowledgeable staff is always available to assist you in making the best decision.
What Makes Online Shopping The Best Choice?
One of the most prominent benefits of shopping at Sprish Studio is the ease of online shopping. You can browse our large Diwali saree collection from the convenience of your own home. There is no need to rush from one store to another when you can browse, select, and buy the latest Designer Diwali sarees online with just a few clicks.
CONCLUDING THOUGHTS
Finally, Diwali is your chance to make a statement and what better way to do so than in a stunning designer saree? Sprish Studio not only provides a wide range of options, but also assures that your Diwali saree is as one-of-a-kind as you are.
Don't pass up the opportunity to buy designer Diwali sarees online at the best prices from Sprish Studio.
Visit our website (www.sprishstudio.com) now and make this Diwali a memorable one with our exquisite saree collection.